Buena Park Access Control
ASAP Security is a Buena Park California based security company. ASAP offers a complete range of Buena Park access control systems to meet all of your security needs. Whether you need to monitor a single door entry point or need a comprehensive Intrusion security system across multiple facilities, we can provide you with the perfect solution. Call us today at 866-570-2118 or send us an email at Info@AsapSecurityCa.com to discuss your residential or commercial security needs.
Q:
How do you give people the ability to move freely while still keeping designated areas secure?
A:
You can do this with access control door entry systems. The security systems that are set up to manage access to select areas for only the specific people you choose, helping to secure and protect these designated areas from unauthorized individuals. Buena Park Access control systems are the preferred choice of many of our customers due to the fact that they are both convenient and cost-effective, while remaining scalable and easy to use. With these systems you can enter rooms quickly and easily, since there is no need to fumble around with a bunch of keys on your key ring. They also give you the ability to track and monitor each person that enters or exits your facility, while generating detailed reports that can even be used for compliance requirements. And with our web-based options, like the popular Honeywell Net-AXS 123, you have the ability to remotely secure and manage your system through a simple, user-friendly interface from anywhere with an internet connection. Buy only the amount of access control you need today, and you can easily scale up and add more doors to your security system as your business grows.
At ASAP Security we specialize in three types of Buena Park access control door entry systems: key fobs, access cards, and biometric. Each system type has its advantages and disadvantages, and we would be happy to discuss each one of them with you in greater detail, but here is a brief overview of each system:
Keyfobs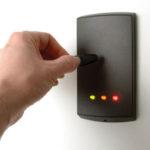 Key fob access control systems are a convenient replacement for the traditional lock and key. Key fobs are small, token-like devices with built-in authentication that allows access to only the people you choose. They are made out of durable plastic and can fit on your key ring, allowing you to open locks with just a swipe. Key fob door entry systems are more secure than old-fashioned locks because they are not vulnerable to being picked and can be hardwired to alarms. Also, if you lose a key fob, there is no need to worry about someone finding and using it like a traditional key. You won't have to bother with calling a locksmith to replace or rekey your locks, since you can just disable access for a specific user through an intuitive, easy to use interface. In fact, each key fob is programmed with a code that is matched with the assigned lock, and every time the fob is used the event can be logged and recorded. This makes reporting a breeze.
Access Cards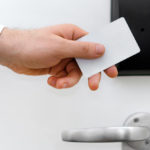 Access card door entry systems work in much the same way as key fob systems. Access key cards replace traditional keys, and they are programmed to open locks electronically with a simple swipe. This allows you to manage access to designated areas and keep detailed event logs. Access cards can also be cheaper to replace than key fobs. One thing to note though, generally speaking, access cards are not designed to be as durable as key fobs. Access cards are flat, however, allowing them to be kept in wallets, which might be preferable to some people.
Bio-metric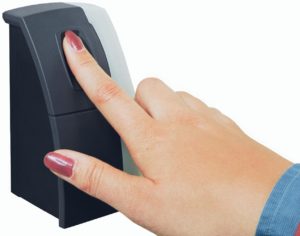 Biometric access control systems, including fingerprint and retinal scanners, are cutting-edge security systems that are extremely secure and require a specific person to be present to unlock. Fingerprint readers, for example, work by analyzing an individual's unique fingerprint patterns and matching the encrypted data points before granting access to authorized areas. Biometric door entry systems are typically the most secure option, but can also be the most expensive control option. Buena Park Access control systems are most effective when they are integrated with additional security features, such as video surveillance cameras, as part of a complete security system. If you have an existing security system that needs to be updated or want a new one designed from the ground up, we can help. ASAP Security is an experienced, platinum certified Honeywell dealer. Call us now at 866-570-2118 to speak with an ASAP Security consultant.